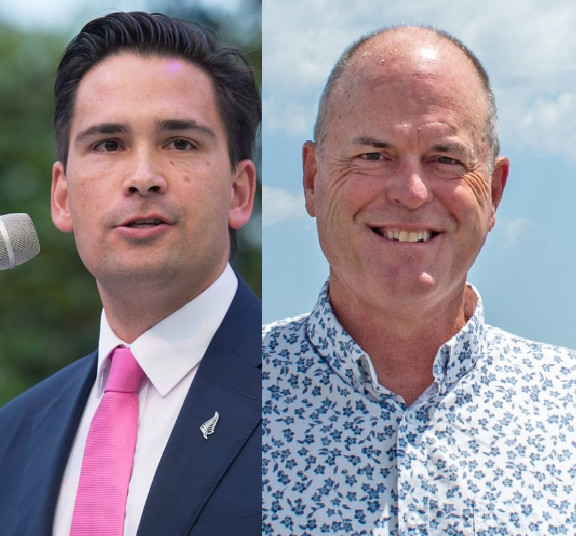 Why the Nats should have stuck with Bridges
Should the Nats have held their nerve, or changed their leadership in a desperate attempt to turn things around between now and September?
Back in February I published an article predicting that National would form the next Government. It was a considered piece based on history, the unusual events following the last election, and the way the numbers work in an MMP environment. But is it still true?
Looking at the latest polls you wouldn't think so. The Covid 19 crisis has turned the electoral math (and the world) on its head and, surely, it would be a brave punter who would back the Nats to win in the face of the latest Newshub Reid Research poll which has Labour on 56.5% support and the Nats on 30.6%.
Understandably, those polls have led to panic in some quarters of the National Party and we now know that Todd Muller has replaced Simon Bridges as leader of the Party. It's doubtful that this was a wise move. The polls themselves were simply a reflection of a moment in time – and responding in this way lacks wisdom and gives the impression of panic.
For me, the argument was overwhelmingly in favour of sticking with Bridges. The fundamentals were still firmly in Nationals favour and changing leaders now lacks judgement and risks election defeat in September. If I'd been a National Party MP, I'd have considered the following things before making a decision to jump off the horse I was on as I head down the final strait:
1.   Labours sudden jump in support had nothing to do with Bridges leadership
Before walking Bridges to the gallows more attention should have been paid to the reasons behind the sudden jump in Labours party support. It had nothing to do with any failure of leadership by Bridges – nor was it particularly an endorsement of Ardern's leadership ability.
As Mike Hosking pointed out in an article earlier this week, Western leaders are currently enjoying absurd levels of popularity driven, no doubt, by relief that things could have been worse. Boris Johnson, Trump, and Scott Morrison – as well as Victoria Premier Daniel Andrews and NSW Premier Gladys Berejiklian – are all enjoying very high levels of support – most of them with numbers that are considerably higher than Ardern's. As Hosking puts it – "being popular, when trouble strikes, is par for the course. Sir John Key post Christchurch, any leader in wartime, Bush post Kuwait".
There are many more examples – but the point is that punishing Bridges for the electoral consequences of a pandemic is short-sighted and will achieve nothing other than to erode confidence in the National Party.
2.   If the Nats were in Government they would be getting the same – or better – numbers
The corollary of point #1 is that, if they were in power right now, the Nats would be enjoying the same (or potentially better) poll numbers. I say 'better' because leaders in Australia, which took a more pragmatic and successful approach to the Covid crisis, are currently getting higher numbers than Ardern.
That's not an accident. If Bridges were PM right now – Labour would be on the ropes.
3.   Pre-Covid Support under Bridges was remarkable
As a student of New Zealand political history and an observer of political trends I can tell you that the support that Bridges and the National Party have achieved over the past 2.5 years has been nothing short of remarkable. There is simply no recent precedent for a first term opposition party being consistently more popular than the largest Government party in its first term of office.
No doubt this is partly due to the fact that National actually gained more votes than Labour at the last election – but that support could have been expected to erode under a strong Government and a weak opposition. The fact that it didn't is testament to Bridges leadership.
4.   It's all about the economy, stupid
In May 1945, the month in which World War 2 ended in Europe, British wartime Prime Minister Winston Churchill had an approval rating of 83% with the British public – a recognition of the fact that he had guided his country through the most significant crisis in its history.
Less than two months later his Government slumped to a crushing defeat – losing to Labours Clement Atlee who won with a majority of 145 seats by appealing to the publics desire for change.
There are not two, but four, more months to go until our election and therefore, more than enough time for the reality of what the lockdown has done to the kiwi economy to start to kick in. While the initial afterglow of a low number of Covid-19 deaths was somewhat inevitable – many kiwis are still covered under the blanket of the wage subsidy, or haven't yet seen the full extent of the damage which has been done to their country, businesses or personal financial position.
That day of reckoning will eventually be upon us and will quickly take the gloss off the current sense of relief. When that happens the focus will move to the economy and an assessment of who is better able to dig the country out of the hole that it's in. That choice will be a no-brainer for most thinking people given the option of a Coalition Government which has utterly failed to deliver on almost all of its policy proposals and had already caused significant economic damage, prior to the Covid crisis – or an opposition with a track record and pedigree in strong economic management.
It's for this reason that people like Sir Bob Jones are predicting a National win, despite the current euphoria. Ultimately, it's all about the economy.
5.   A leadership change didn't work for Labour – and it won't work for National
Despite all of the sycophantic media coverage and rewriting of history it's important to remember that changing leaders just prior to the last election didn't actually work for Labour. For all of the claims about Arden's so-called star power Labour still only polled 36.9% of the votes against Nationals 44.4%.
Their ability to form a Government was courtesy of an act of Utu by Winston Peters – not because they were the popular choice of the people. And why didn't their leadership change work? Because it's all about the economy – not the popularity of the leader. National  didn't need a new leader – it needed to hammer its economic credentials and to offer a clear and better way to get the country back on its feet.
I understand the momentary concern being felt by some in the National Caucus – but its times like this when mettle and character is really tested. In my opinion they should have held their nerve and exercised wisdom instead of crumbling under the pressure of populism and partisan headlines.
Can I guarantee that sticking with Bridges would deliver a National win in September? Of course not. But I can absolutely guarantee that, under Bridges, voter support would have stayed at a high enough level to position them for a reasonable shot in 2023. But a change in leadership now, has made that hill into a mountain.