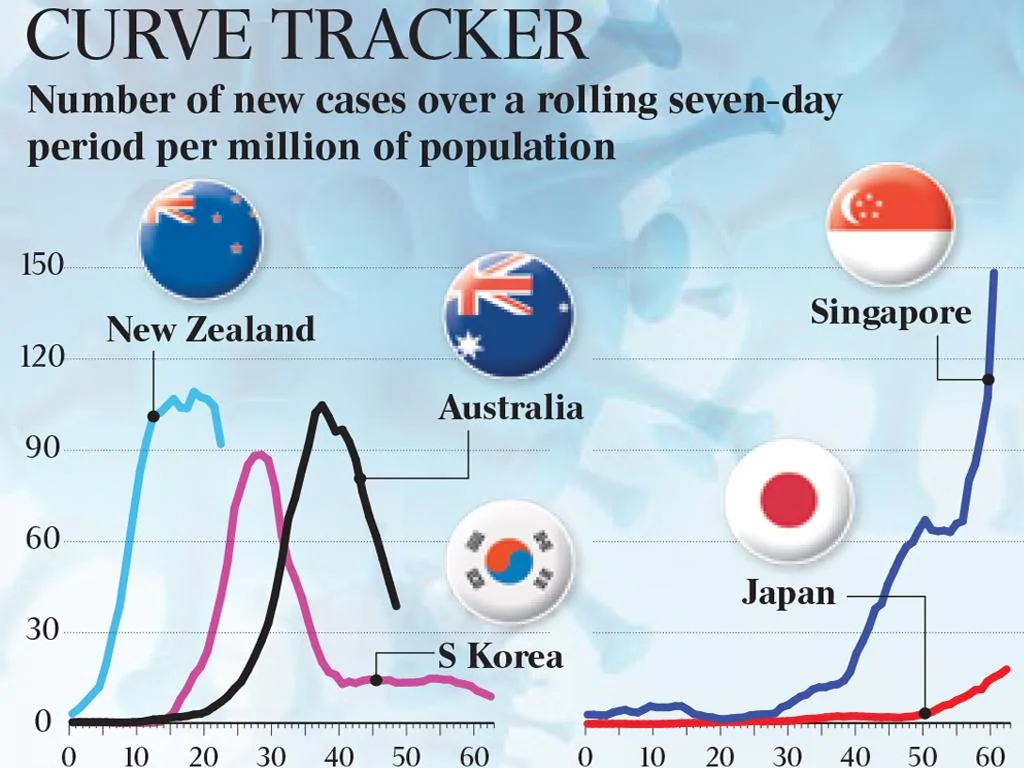 Has Australia handled the Covid-19 crisis better than New Zealand?
Australia has managed to get on top of Covid 19 without completely tanking the economy
While I think it's way too early for Australia to break out the champagne and celebrate – we, in New Zealand, should be watching what happens in Oz with particular interest.
Figures published by David Farrar, on Kiwiblog, on April 11 make for interesting reading. They compare cases of Covid 19 in New Zealand, Australia, the UK, Canada, the US and Ireland and show that, in terms of the number of cases per capita, Australia has the lowest.
| | | | | | | |
| --- | --- | --- | --- | --- | --- | --- |
| Country | Cases | Cases/mil | Deaths | Deaths/mil | Tests | Tests/mil |
| NZ | 1312 | 280 | 4 | 0.8 | 55k | 11.5k |
| Aust | 6238 | 245 | 54 | 2 | 338k | 13.2k |
| UK | 73k | 1,086 | 8958 | 132 | 316k | 4.6k |
| Canada | 22k | 587 | 569 | 15 | 370k | 9.8k |
| Ireland | 8089 | 1,638 | 287 | 58 | 53k | 10.7k |
| US | 502k | 1,518 | 18,725 | 57 | 2.5m | 7.6k |
Overall, the trajectory of Covid-19, in Australia, is currently on a very similar track to ours on a per capita basis with experts over there claiming that the virus 'is on the cusp of dying out' – but Australia has managed to achieve this without completely tanking their economy in the process.
This is important because it looks past the sycophantic media-led adulation in response to the 'New Zealand approach' and recognises that the Coalition didn't actually need to lay waste to the economy in order to steer us through this crisis. Instead of putting the country into an almost complete lockdown which necessitated massive income support across a broad section of society – perhaps we should have listened to Simon Bridges, earlier, and either closed our borders or required mandatory quarantine of those who entered the country. Indeed, a lockdown without a matching quarantine regime made a joke of the other measures that the Government was taking. But instead of applying logic – we applied a massively blunt instrument to the problem – the cost of which is going to be significant once the dust has settled and the virus is behind us. I'm wary of adding my voice to those predicting that the economic apocalypse is at hand – but it would also be foolish to pretend that life will return to complete normality anytime soon. That isn't just my opinion – it's the considered view of the OECD which recently issued a report saying that the New Zealand economy will be hit worse than that of any other OECD nation as a result of the extreme measures being taken here.
On the upside, retail, food processing, some manufacturing and large sections of the property and service economies will probably bounce back fairly quickly – but other sections of the economy won't be so lucky. The tourism and hospitality sectors, and sections of the export sector, are examples of parts of our economy which will still have a long period of struggle ahead of them and, frankly, some businesses simply won't survive. The individual cost of this will be huge on those who are affected. Unemployment, bankruptcy, the loss of homes, the end of relationships, and (God forbid) suicides are just some of the possible consequences of the approach we have chosen to take.
Of course, if the New Zealand approach proves to have been the smartest way to have dealt with this crisis I think most people will accept that these consequences are the unavoidable price of saving an even greater number of lives. But if cases of the virus in Australia (or South Korea, or Japan – which also have lower rates than New Zealand) continue on their current track and those countries come out of this with results similar to (or better than) our own – it will be time to ask some very serious questions about the wisdom of our approach and whether it was worth destroying entire sections of our economy,
Yes, I know it's easy to be wise in hindsight – but as with previous crises which have faced our country over the past couple of years, I'm once again concerned that an approach that may have initially been seen as strong is, increasingly, becoming arrogant. If there's evidence that Australia has taken a smarter line on this thing – do we really need to be in lockdown for another two (or more) weeks when we could be using that time to limit the economic damage which has already been done?
It's one thing to be supportive – but no one should be immune from scrutiny..